Owners Corporation Services Victoria
Owners Corporation Management Services in Victoria
We have serviced the Melbourne owners corporation industry since 1994 and are now one of Australia's leading strata management companies. We ensure the buildings we manage are well maintained for our clients. This is demonstrated by our high customer satisfaction levels and the numerous industry awards for excellence we have received.
Owners Corporation Administration
Our experienced owners corporation managers assist committees with all aspects of owners corporation administration, including:
 Accounting
Establish and operate a separate bank account in the name of the owners corporation;
Keep books of account covering all income and expenditure and assets and liabilities of the owners corporation;
Prepare annual financial statements;
Issue notices for fees set and special fees levied by the owners corporation;
Pay invoices and insurance premiums on behalf of the owners corporation;
Reconciliation of bank accounts.
 Insurance
Arrange insurance and insurance renewals with or through the authorising licensees;
Arrange a valuation of the cost of reinstatement and replacement of the building/s when requested by the owners corporation;
Prepare and lodge routine insurance claims with insurers/brokers;
Provide any other insurance services in respect of insurance products offered through the authorising licensees.
Documentation
Maintain a roll of owners names and addresses;
Make available for inspection the owners corporation records;
Maintain the register of the owners corporation;
Make available for inspection and provide copies of requested documents in the owners corporation register;
Issue owners corporation certificates and answer reasonable enquiries at the cost of the applicant;
Deal with routine inward and outward correspondence;
Keep and supervise the use of the common seal;
Keep the records of the owners corporation, including meeting minutes and postal ballots.
Annual General Meeting
Convene and attend Annual General Meetings held during office hours;
Submit budgets and financial statements;
Record minutes of the Annual General Meeting;
Submit a report of the Managers activities at each Annual General Meeting.
Guidance
Provide guidance to the owners corporation to enable the owners corporation to carry out and perform its duties and functions.
A Network Pacific owners corporation manager is able to meet your needs, every day, respond quickly to urgent situations, ensure all communication is effectively responded to and provide committees with reassurance every step of the way. Our managers provide a strong level of support to both committees and owners and will treat your property with the same level of attention as if it was their own.
Financial Reporting and Control
Using leading industry accounting software, we provide our clients with a high level of financial reporting, including a portal where members can view invoices, make payments and access important owners corporation information and documents.
Owners Corporation Maintenance Coordination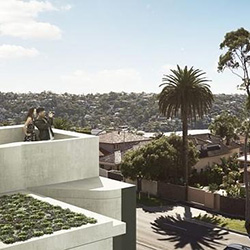 Our expert maintenance services play a key role in maintaining asset values, improving building performance and enhancing environmental amenity and safety for our clients. Our services include:
Contractor selection and co-ordination;
Maintenance planning;
Organisation of common area maintenance, including programmed preventative maintenance and urgent repairs;
Co-ordination of large capital or maintenance projects.
Fee Structure
Our transparent and competitive fee structure has no hidden charges. Contact us today for further information and to discuss how we can assist your owners corporation on +61 3 9816 4722 or info@networkpacific.com.au
Developer Services
Network Pacific Strata Management's experienced Business Development Team works in conjunction with developers to provide specialist advice. Our extensive experience with owners corporation management gives us a thorough understanding of the broad range of issues which developers face, ensuring that each project progresses seamlessly through the planning, establishment and completion process.
We ensure the successful establishment of the owners corporation by assisting with the following:
Review of the Plan of Subdivision;
Common property design and planning;
Preparation of an inaugural budget and maintenance plan forecast;
Establishment of additional/special owners corporation rules specific to each property;
Registration of plans, rules and other relevant documents with Land Registry;
Strata insurance in accordance with legislative requirements.
We liaise with necessary third parties such as local water authorities, electricity and internet providers, and other service providers. We also manage the tender process for service contracts for lifts, swimming pools, building management, facilities management and cleaning.
Our dedicated team assists with the activation of the owners corporation, ensuring a smooth transition from the developer to the owners. The services provided during this process include, but are not limited to, the preparation and assistance with:
Owners corporation certificates as per legislative requirements;
The inaugural general meeting and expenditure budgets for the first financial year;
The establishment of the owners corporation books and records in accordance with current legislation;
The co-ordination of residential/commercial tenancy move ins;
Induction programs for service personnel;
Resident information guides customised for the property detailing the role and function of the owners corporation and any particulars relevant to the property for prospective purchasers;
Owners corporation related enquiries during the sales and marketing process.
Network Pacific Strata Management acts as the point of contact for prospective purchasers and our team is available to handle any queries and provide specific information as required. We ensure the purchaser has a confident understanding of the role and functions of the owners corporation.
For more information or to discuss your specific development requirements, please contact our Business Development Team on +61 3 9816 4722 or info@networkpacific.com.au
Our Owners Corporation Services in Melbourne are Supported by our Associated Companies
Through our associated companies, we deliver complete service integration with one management team. This provides our clients with the convenience of dealing with just one company, rather than multiple contractors.
Ensuring your building is well maintained is essential to protecting the value of your property and to ensure a safe environment. Australian Facilities Management can assist building owners in a variety of ways, from supplying individual trades such as electrical and plumbing, to complete integrated building and facility management. In particular we provide the following:
Facilities maintenance;
Property risk and asset management;
Building code and regulatory compliance;
Essential services provision, maintenance and compliance;
Maintenance planning;
Asset lifecycle management, including mechanical services, air conditioning, plumbing and electrical systems;
Contractor engagement and management.
All buildings are required by law to meet safety standards and to gain annual Essential Safety Measures Certification. Network Pacific Strata Management works with its affiliated partner company, Essential Services Compliance, to ensure buildings are inspected in compliance with legislation.
24:seven Maintenance Solutions' highly qualified and trained technicians specialise in property repairs, maintenance and programmed servicing, 24 hours a day, 365 days a year. In addition, the company provides expert building management services for residential apartments, commercial buildings and mixed-use properties across Melbourne.
Building Management Systems Australia provides cost effective virtual concierge and security services, building and facility management software, building touch screen kiosks and a range of scalable security and remote access features. Benefits include:
Improved efficiency in reporting and tracking maintenance requests;
Onsite co-ordination of facility bookings and building maintenance;
A centralised point for building information and communications;
A centralised repository of building documentation and information;
Co-ordination of deliveries, building security and move in / outs.
Member Portal
Login to our Member Portal to access useful information regarding your owners corporation, including financial statements, owners corporation rules and your account balance. You can also make payments and update your contact details via the portal.
Order Building Access Products
Order building access products such as keys and remotes online
Maintenance Request
Please click on the button below to lodge a maintenance request.
Request a Quote
Are you interested in changing strata managers, or would you like assistance with a new project or property development? Simply fill in the form below to receive a tailored proposal for your owners corporation. We can also meet with you or other owners corporation members to discuss the proposal and answer any questions you may have.